Recommended Reading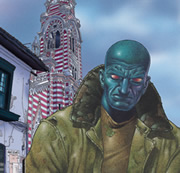 By Juan B. Gutierrez. «Extreme Conditions is a hyperfiction that inaugurates the genre in Spanish, drawing on a long tradition of grim futuristic science-fiction. The novel integrates text and image in a hypertext whose organizing principle is time and which has a marked social dimension, with themes such as technology and power, racism and pollution... Time travel is tricky, and so is the attempt to change the course of history. But Gutiérrez is not a determinist. He offers a circular array of events that emphasize the often casual connections between moments.» Condiciones Extremas: Digital Science Fiction from Colombia, by Susana Pajares Tosca in Latin American Literature and the Mass Media. Hispanic Issues, Volume 22. Castillo, Paz-Soldan eds. Garland Publishing, New York, 2001.   More...
Why Register?
You can access the system without having to register by using the login "guest" and password "password". Click here to start your session. However, given that many users could be using that account at the same time, you could experience strange reading paths. To ensure this does not occur, please register.
When you register, Literatronic can design a unique book for you based on your interaction. Click here to register. Your e-mail is not required to register, neither is any personal information. Literatronic is a non-commercial web site.
If you do not want to start a session, remember that non-registered users have limited access to Literatronic.